Their world might be dead, but that didn't mean they were.
Azuka clung to the shadows of the blasted landscape. It was hard to track time now, in this world of irregular skies. Ever changed when the earth had trembled beneath their feet; since the Dark Portal was crushed from within by writhing masses of tendrils that had spilled out into the nearby canyon. Since the dying jungles of Tanaan were incinerated and leveled by the supernatural, crushing waves of fel energy that had washed over the landscape. Though hardly verdant, the damp jungles, swamps, and ravines of the ancient place were now dried and cracked. Where once a boot could hardly take a step without discovering mud now found only crimson crust. Even the salty seas were but memories of the past; only endless expanse awaited one who plunged from the side of the bloody earth, surrounded on all sides by emptiness, like a peninsula of hellfire.
If one was lucky, as she was right now, they could take shelter from the twisting, alien sky and the unnatural heat given off by the streams of demonic energy that painted the skies like veins of burning fire that danced through the skies above beneath the bones of the forest; brittle, ashen fragments of the trees that once stood defiantly against the orcs that would master them. Her wrapped feet sank into the dry fragments of red clay crumbling beneath her weight as she stalked the remnants of the jungle for prey. After all, she and the three-hundred orcs that had crossed the portal before its collapse had survived. Azuka cared not if it was a miracle, luck, or a blessing that they lived; all she cared about right now was finding prey. Survival, after all, would mean nothing if they did not eat. There were many mouths to feed, and she had to do her part if she was going to survive.
If
they
were going to survive, until they found a way off this desolate land. Until they found a way back to Arthak.
She didn't have time to think too much about Arthak, or she would get frustrated. That she had left his side with a battle looming, perhaps, or that she didn't have a way back to the rest of the clan. Or that she
cared
to get back to them at all. 
She was ashamed to have become so...
attached
 to the Broken Blade. But it was... nice to belong somewhere, even in a broken place like this. To be a part of this broken family, she had learned, was better than to be a part of nothing. After all, if she was still alone, she would probably have been dead by now.
We fight together,
 Sadras had always said,
or we die alone.
She chuffed as her words danced through her mind, irritated that she now saw the truth behind the words. A single idle thought drifted towards Arthak, Sadras, towards Nyxxa and all the rest before her mind returned to the hunt. 
They better be alive,
she thought,
or I'll kill them
.
An aurora of fel energy illuminated the sky above as she slunk through the shattered trees, trying to minimize the disturbance she cast upon the ash-covered earth. As she stalked through the grim graveyard of a forest, a streak of green caught her attention. She narrowed her eyes as she closed the distance quietly. Quietly, she slipped her longblade out of the sheath on her leg and held it upside-down, blade pressed against her forearm as she moved closer to inspect the site. She scowled, her eyes narrowing in suspicion at what she found.
A small plant, seemingly untouched by the blighted world around it. It was about three feet high, with a handful of leaves on either side. And, from the vines, a number of small, pinkish berries grew from it. She knelt down, and with her free hand, plucked one of the berries from its stem.
It was a queer thing, unlike anything she had seen before. It was round, but with small nodules of fleshy growths on either side of it, giving it the appearance of a tiny spiked ball. She set her blade down as she knelt to the ground and drew a dagger. Remembering what Sadras had taught her, she first brought the berry to her nose and sniffed. It smelled... sweet. Taking the blade, she sliced the berry in half, as careful as she could to keep the juicy bits from touching her finger. She laid one half of the berry on her wrist, the other on the edge of her lip. She waited a few moments, watching closely for any skin irritation, burning, numbness.  Nothing.  She licked the juice from her lips. It was... really good, actually. She squinted at the berry before popping it in her mouth, stuffing it to the side of her cheek before swallowing. After a few minutes, she gave in and swallowed it. 
Seems safe,
 she thought to herself. 
And good.
 Strange. The berry wasn't only delicious, but invigorating. In fact, she didn't feel hungry at all anymore. She grunted to herself and began plucking the other berries from the plant. If it was poisonous, she'd know before she got back most likely. If not, then she might have found something very useful for the clan.
Especially for Mankrik,
 she thought.
He eats a lot.
Not to mention his life-mate, Mahka, was eating for more than just she now.
She had plucked most of the berries from the plant when her ear twitched. She heard something brush against the ashtree nearby.  Instinctively, she was on her feet again, knees bent and blade at the ready. Steadily but quickly she collected her other blades from her workspace. She slipped the satchel of berries into a small satchel as she slid her feet across the earth, trying to see behind the long-dead trunk that she had heard the sound from.
"Ahh," she heard a small, strange voice say.  "Ahh, ahh."
Azuka growled in response. A single step forward in pursuit was all it took to send the source of the noise off, and before she knew it, the chase was on. The young orc darted through the trees, her braided hair flapping through the air behind her as she chased the eavesdropper. Quickly her eyes told her that her prey was not fleeing by foot; no tracks marred the earth beneath her, and the sound of small, flitting wings belied its true source of locomotion. It was quick, but Azuka was keeping pace with it as it darted in and out of the ashtrees.
And it seemed to be slowing down. Stamina did not appear to be its strong suit.
The huntress saw her mark; and pounced, leaping through the air with a snarl as she grabbed the tiny creature mid air and tucked it under her weight. The two of them tumbled across the ground for a few feet before Azuka pinned it to the ground, teeth bared at her prey, her blade inches from its tiny neck.
Its
very
tiny neck.
"Ahh, ahh," it said once again, a tint of fear in its cry.
The... thing she had pinned was small; no more than two feet from head to foot(?). Its small, stem-like arms curled around Azuka's wrist. It stared back at Azuka with three small, beady eyes on its otherwise featureless face, with its third located on what amounted to the creature's forehead. Its body more akin to that of a flower's petal than flesh, with a texture just as soft and delicate as it. The little one's eyes twinkled with fear, but it made no attempts to struggle free, not that it could with its small, leaf-like wings pinned to the ground.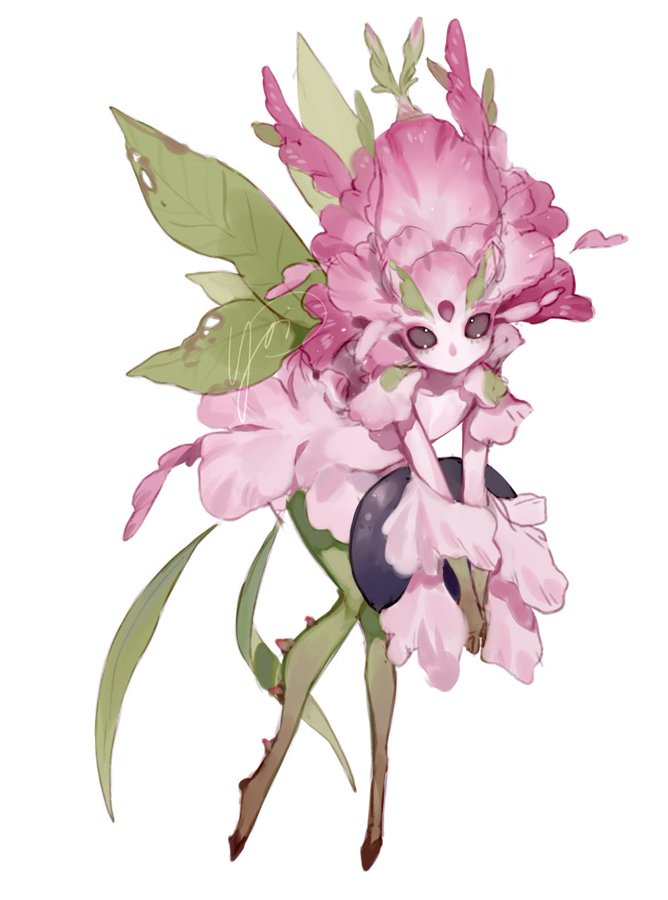 "Ahh, ahh, ahh," it repeated, though it had no mouth with which to speak.
She had heard tales of the Primals; violent, dangerous plant-like creatures that once ruled this land. She would not allow this creature to take her unawares. She drew the blade close to its bulb-like neck, ready to end its life.
Maybe Kaza could make use of its body in her medicines.
"Ahh. Zoo. Kah," it said.
Azuka's breath, held for the hunt, came back suddenly in a quiet gasp. She blinked rapidly as her mind caught up to what she had just heard. 
Did it just...? No, no way. Must have been in my head.
"Ahh. Zoo. Kah!" it repeated. It almost sounded... excited? The fear in its eyes had relaxed with the young huntress's grip on it.
Azuka willed her eyes to squint, but they could only widen in disbelief at the creature beneath her weight. "How do you... know my name?" she asked the mysterious little thing.
"Ahhzookah! Ahhzookah!" it shouted emphatically, slipping out from underneath Azuka, her grip loosened by perplexion. The little fairy-like flower danced around her twirling through the air excitedly as if the young orc
hadn't
nearly sliced her body in half seconds ago.
Azuka watched in utter shock and confusion as the creature circled her head. "What... are you?"
"Ahhzookah," it said, as if that, itself, was an answer. The creature flit through the air to the edge of the dead forest and danced around another vibrant green plant, covered in the same sorts of berries as the one she had found just a minute ago. And it wasn't alone. There were a dozen or more of those plants lining this entire clearing, beacons of color and nourishment in an otherwise desolate hellscape.
Azuka stood back up, her blade held limp in her hand. 
The berries... they're the same color. 
The little one plucked a berry from its stem and floated back over to Azuka and plopped it into her hand.
"Ahhzookah," it said, cheerily before flitting back over to the plant to grab another berry.
"Were you... trying to bring me here?" she asked her new companion.
"Ahhzookah, Ahhzookah!" it exclaimed.
I... guess that's a yes...?
Azuka sighed. She didn't exactly know what... this was, or what this was all about, much less why the floral stranger
knew her name
, but she didn't really have time to worry about that right now. These berries, at least, would help to feed their people for a little while. Azuka shrugged. At least her hunt was over for now. If these things
were
safe to eat, and as filling as they seemed to be, they could be quite the blessing for the clan, especially if this...
thing
could make more of them.
Hopefully a blessing, at least.
Stowing her blade, she joined the flower-creature in plucking the berries from the strange plants that surrounded them, still keeping an eye on her mysterious visitor the whole time. She was relieved (or perhaps annoyed) that it was, instead, attempting to carry as many berries as its little body could, repeating her name over and over again in a vaguely song-like manner.
"Maybe Kaza knows what you are," she said aloud as she picked the last of the berries and looking back to where the rest of the Broken Blade was camped, less than a mile through the thicket. She looked back at her peculiar travelling companion, flitting nearby with a stack of berries in its tiny hands. "Stick close. And keep up. You lag behind, you become target practice. Got it?"
"Ahhzookah," the creature said imperatively. She almost thought she saw it nod...
Azuka sighed and shook her head again, realizing just how absurd this all was. Maybe that berry
was
having some weird side effects after all...?